Workshop, Seminar, Conference Organized by Institution
Event No. 35. 9th April 2022 Department of Chemistry Organised Industrial Visit at Dharashiv Sugar Production Industry.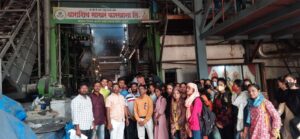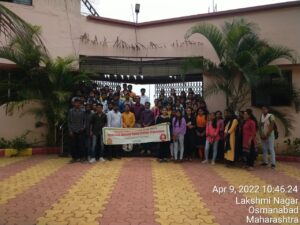 Event No. 35. 8th March 2022 Women's Day Celebration 'स्त्री-पुरुषांच्या समन्वयातूनच महिला सक्षमीकरण होईल' सौ. उज्वला मसलेकर
Event No. 34. 25th Feb 2022 On Occasion of Marathi Poet V. V Shirwadkar Jayanti Celebrated Marathi Rajbhasha Day.
Event No. 34. 19th Feb 2022 छत्रपती शिवाजी महाराज जयंती निमित्त व्याख्यानाचे आयोजन दिनांक 19 फेब्रुवारी 2022 राम कृष्ण परमहंस महाविद्यालयाचे इतिहास विभागातील डॉक्टर विकास सरनाईक तपस्वी पब्लिक चॅरिटेबल ट्रस्टचे कोशाध्यक्ष्य माननीय अण्णा डांगे महाविद्यालयाचे प्राचार्य डॉक्टर प्रशांत चौधरी व उपस्थित विद्यार्थी वर्ग
Event No. 33. 6th Feb 2022 Venkatesh Mahajan Senior College organized an online lecture series by History Department that was held today.
Event No. 32. 2 Feb 2022QR Code Technology used for Study material and Plants, DD Sahyadri News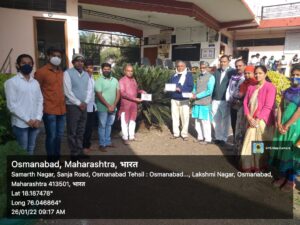 Event No. 31. 26 Jan 2022 Plant QR Code Inauguration on the occasion of Republic Day. Plant QR prepared by the Department of Botany. QR Code made for all plants present in the college campus, which will allow the access of information about the plant.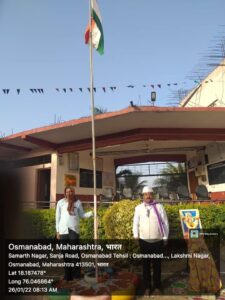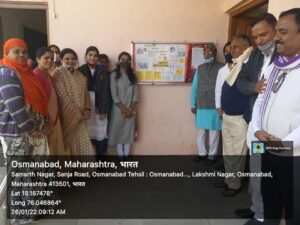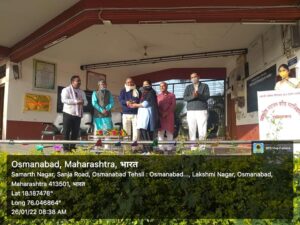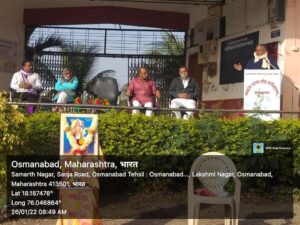 Event No. 30. 26 Jan 2022 Republic Day was celebrated with enthusiasm at Venkatesh Mahajan Senior College.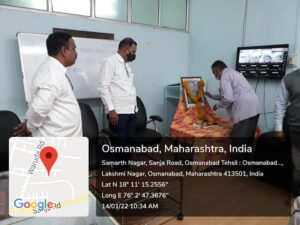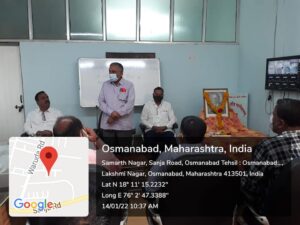 Event No. 29. 14 Jan 2022 Celebration of name expansion day. Dr. Babasaheb Ambedkar Marathwada University's name extension day was celebrated.
Event No. 28. 12 Jan 2022 Celebrated the birth anniversary of Swami Vivekananda and mother of the nation Jijamata.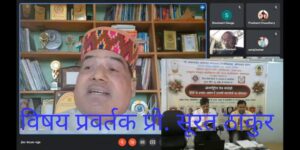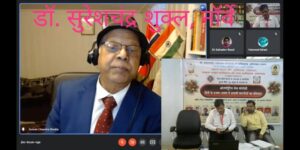 Event No. 28. 10 Jan 2022 Online International Conference held at Venkatesh Mahajan College, Osmanabad. on the occasion of International Hindi Day.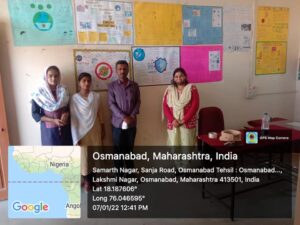 Event No. 27. 07 Jan 2022 Department of Zoology Organizing poster presentation competition was organized. A total of 19 students had participated in this competition.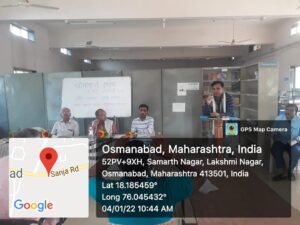 Event No. 26. 4 Jan 2022:- A meeting of Chokhoba to Tukoba ek vari samatechi was organized by Sant Chokhamela Adhyasan Kendra and Vrindavan Foundation Pune at Venkatesh Mahajan Senior College.
Event No. 25. 4 Jan 2022:- A lecture was organized by the Zoology Department at Venkatesh Mahajan Senior College. Dr. Rahul Khobragade as a Guest lecturer.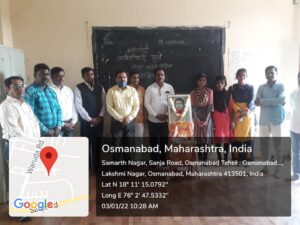 Event No. 24. 3 Jan 2022:- Celebrated Savitribai Phule Jayanti.
Event No. 23. 1 Jan 2022:- On Occasion of Azadi ka Amrut Mohotchav, College Organized Drawing Competition.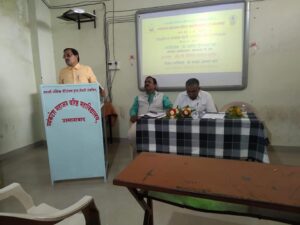 Event No. 22. 31 Dec 2021:- Organized One day workshop for non-teaching staff of the college under IQAC section. Prof. Satish Hivrekar guided office working style, management and values. Adding to this programme. Milind Patil also expressed his thoughts.
Event No. 21. Guest lecture was organized at Venkatesh Mahajan Senior College on Career Opportunities in Commerce Branch. Prof. at Kholeshwar College Ambajogai as a lecturer for this program.

Event No. 20. A lecture on communication skills was held at Venkatesh Mahajan College. Former Principal Prof. as an instrument for this lecture. Dr. Anar Salunke.
Event No. 19. Date: 17/12/21 Dept. Of Microbiology, Venktesh Mahajan Sr. College, Osmanabad. A Guest lecture by Prof. Dr. A. M. Deshmukh, president MSI, India, on the subject Scope in Microbiology.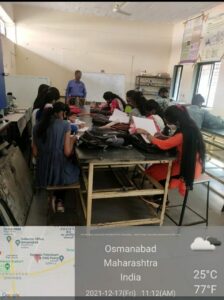 Event No. 18. 10 Dec 2021 On the Occasion of HIV day, Venkatesh Mahajan Senior College, Vocational College, District Government Hospital and NSS Organized one day health checkup ( HIV, HB, Sugar, Blood Pressure, TB) camp for all the staff and students.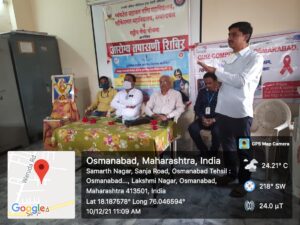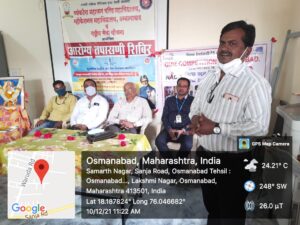 17. 06 Dec 2021 Organized Guest Lecture (Speaker name:- Dr. Shivajirao Gaikwad. Dept of Marathi, RP College Osmanabad) Organized on Occasion of Dr. Babasaheb Ambedkar Mahaparinirvandin.
16. 06 Dec 2021 Department of NSS Organized Cleanness Drive in College Campus on occasion of Azadi ka Amrit Mohotchav and Dr. Babasaheb Ambedkar Mahaparinirvandin.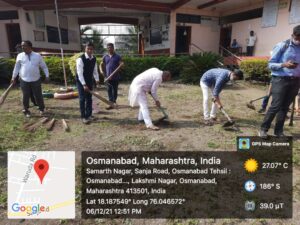 15. 25 Nov 2021 Celebrated Constitution Day and Dr. Mahadev Harge Delivered his Lecture on behalf of Constitution Day.
14. 21 Nov 2021 Guest Lecture Conducted by Department of Microbiology on Microbial Surfactant:- Multinational Bio-molecule of the 12th Century.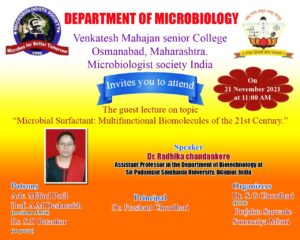 13. 20 Nov 2021 Inauguration of Career Katta in College Campus in collaboration with Department of Higher and Technical Education Maharashtra and Maharashtra Information Technology Support Center.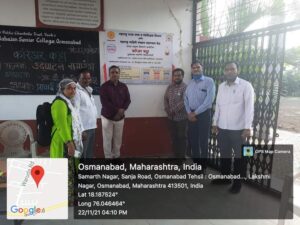 12. 20 Nov 2021 Aksharvel Mahila Sahitya Mandal and Department of Marathi Venkatesh Mahajan Senior College Osmanabad Organized book publication ceremony of Kavya Sangrah (Author:- POETESS Aparna Chaudhari) and Diwali Ank in College Campus.
11. 31 Oct 2021:- Online Guest Lecture on Immunology by Speaker Dr. Rajesh J Sharma (Associate Professor and Head, Department of Biotechnology, VPASC College, Baramati – 413 133)
10. 30 ऑक्टोबर 2021:- कोरोना लसीकरण तपस्वी पब्लिक चॅरिटेबल ट्रस्ट संचलित, व्यंकटेश महाजन वरिष्ठ महाविद्यालय उस्मानाबाद कोव्हीड लसीकरण शिबिराचे आयोजन करण्यात आले आहे.
9. One day Workshop on New Accreditation Process of NAAC.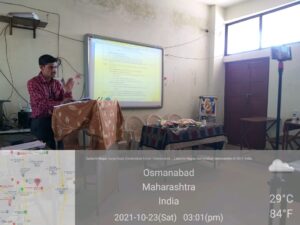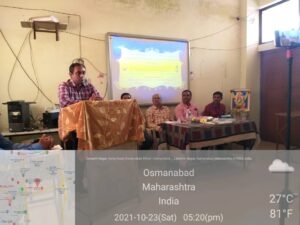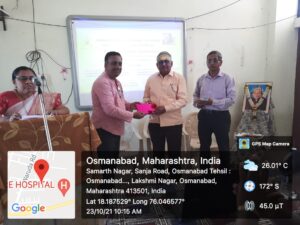 8. Book Donation program to Department of Microbiology by Hon. Dr. G. M. Warke, Founder & CMD, Highmedia Biosciences, Mumbai, On belf of Missile man Dr. A. P. J Abdul Kalam sir's Birthday.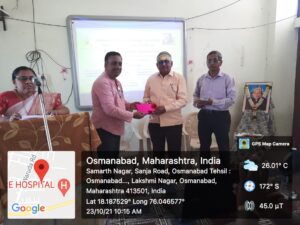 7. महात्मा गांधी जयंती आणि लाल बहादूर शास्त्री जयंती साजरी करताना प्राचार्य सह प्राध्यापक वृंध.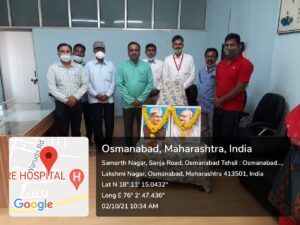 6. दिन दयाळ उपाध्याय जयंती अभिवादन
5. आझादी का अमृत महोत्सव Fit India Freedom Run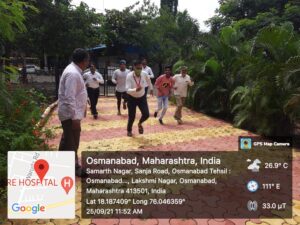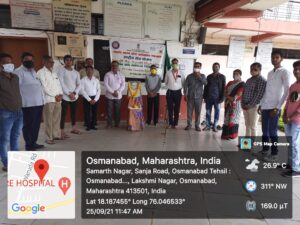 4. व्यंकटेश महाजन वरिष्ठ महाविद्यालयात लोकमान्य टिळक स्मृतिदिन आणि अण्णाभाऊ साठे जयंती कार्यक्रम संपन्न झाला
3. Vermicomposting project: Inauguration of first lot of Vermicompost 
Inauguration of first lot of vermicompost produced through Vermicomposting project by Department of Botany and Zoology under Earn and Learn Scheme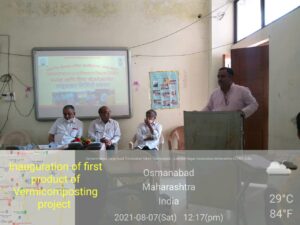 2.व्यंकटेश महाजन वरिष्ठ महाविद्यालयात लोकमान्य टिळक स्मृतिदिन आणि अण्णाभाऊ साठे जयंती कार्यक्रम संपन्न झाला
1. 24 June 2021 Parent Teacher Meeting conducted online (Google Meet) for B.Sc Third Year students (50 Parents participated).