Events of Academic Year 2020-21
_____________________________________________________________________________________________________________________________________________________________
19. Health Checkup Organised by NSS on behalf of women's Day.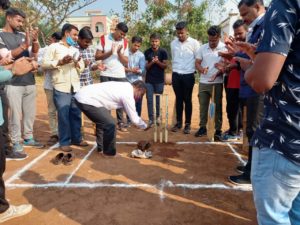 18. Box Cricket स्पर्धेचे उद्घाटन प्राचार्य डाॅ.प्रशांत चौधरी व स्पर्धेतील सहभागी विद्यार्थी खेळाडू
17) 04 Feb 2021 Road Safety week Celebrated.
16) 28 Jan 2021 Department of Microbiology Organised National Level Webinar on Bioentrepreneurship
15) 03 Feb 2021 अर्थशास्त्र विभाग भित्तीपत्र प्रकाशन अंदाज पत्रक २०२१.
14) 26 Jan 2021 Inauguration of Shatavari Cultivation and Vermicomposting project. Inaugurated by Rajesh Sannyashi.
13) बीए, बीएससी व बीसीए प्रथम वर्षाकरिता अनिवार्य करण्यात आलेल्या "संविधानाची ओळख" या अभ्यासक्रमाचे उद्घाटन करतेवेळेस डॉक्टर प्रशांत चौधरी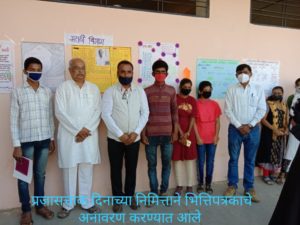 12) 26 जानेवारी 2021 प्रजासत्ताक दिनानिमित्त मराठी विभागामधे डॉ. अभय शहापुरकर यांच्या हस्थे भित्तिपत्रकाचे अनावरन करण्यात आले.
11) 26 Jan 2021 Department of English has Organised Wall Paper Presentation and Inaugurated by Dr. Abhay Shahapurkar sir and Dr. Prashant Chaudhari.
10) 26 Jan 2021 On Occasion of 72 th Republic Day, Department of Chemistry has Organised Wall Paper Presentation, Prepared Sanitiser by Chemistry Students and Distributed 100 Sanitiser bottle among Society.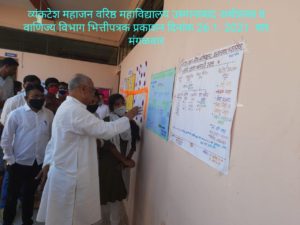 9) 26 जानेवारी 2021 प्रजासत्ताक दिनानिमित्त अर्थशास्त्र विभागामधे डॉ. अभय शहापुरकर यांच्या हस्थे भित्तिपत्रकाचे अनावरन करण्यात आले.
8) 25 Jan 2021 NSS स्वच्छ भारत अभियान अंतर्गत महाविद्यालय स्वच्छ करताना प्राध्यापक व विद्यार्थी.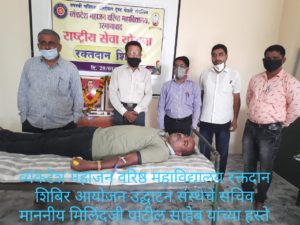 7) 20 Jan 2021 Blood Donation Camp organised by NSS on the occasion of Birth Anniversary of Rashtra mata Jijau and Swami Vivekanand.
JAN 14 डॉ. बाबासाहेब आंबेडकर मराठवाडा विद्यापीठ औरंगाबाद नामविस्तार दिन.

6) 14 जानेवारी 2021 डॉ. बाबासाहेब आंबेडकर मराठवाडा विद्यापीठ औरंगाबाद नामविस्तार दिन. 

5) 12 Jan 2021 Swami Vivekanand Jayanti and Rashtramata Jijau Jayanti
4) 10 जानेवारी 2021 को अंतर्राष्ट्रीय वेब संगोष्ठी "राष्ट्रीय एकता मे देवनागरी लिपि की भूमिका"Watch Now
3) 09 Jan 2021 स्त्री अभ्यास, प्रमाणपत्र अभ्यासक्रम:- भारतीय संविधांनाची ओळख. उद्घाटन समारंभ.

Watch Now
2) 07 July 2020 Plantation of tree on the eve of Vruksh Sanvardhan Pandharwada. 
1) Awareness Program Collectively Organized by Venkatesh Mahajan Senior College, Vidya Bharati Pratishthan and Arya Chanakya Vidyalaya.